<![if !vml]>

<![endif]>
<![if !vml]>

<![endif]>
<![if !vml]>

<![endif]>
<![if !vml]>

<![endif]>

The buttons below will take you to two of the bands that I have been in.
Born in the East End of London circa 1950, my education knew no bounds when I was dragged kicking and screaming to those lovely Victorian schools in Wandsworth and Balham. Not only were they cold, dark, damp and menacing, but were complete with their own menageries, where rodents the size of small tigers terrorized the inmates. The staff wore shapeless grey pinstripe suits, moustaches, brylcreemed hair, and were pretty liberal with the way they used their fists. The male teachers weren't too cool either!!!
On leaving London, to my great relief, we moved to Burgess Hill, which is in West Sussex. The countryside. Fishing, exploring, bird watching, and cycle rides. None of which I could do in London! At that time it still had a windmill, a millwrights, and the remains of what were the wonderful Victorian Pleasure Gardens, all now long since gone.
At about twelve years old, I got my first guitar. It cost the grand sum of 10/-. That's ten shillings, for the people that don't remember real money. Ten bob. That was four weeks pocket money. No sweets, or The Eagle, Dandy and Beano for four weeks. I wondered whether it was worth it! I still do, sometimes.
My father used to say, "What have you got to fall back on? It's not like having a real profession, is it?"
I would say" Well you wouldn't say that to an draughtsman."
"That's different." He said.
Mind you, he didn't say that when the record was on the radio, and the juke box, down the local. He was chuffed to blazes and made sure every one knew it was his son "on the wireless" as he called it.
Not owning a record player at that time, I used to run home from friends house trying to remember riffs by T Bone Walker, John Lee Hooker, and Robert Johnson. There was only three or four of us guys listening to blues then. We were social outcasts, as everything that involved guitars was the Shadows, or Bert Weedon. Much as I admire them now, I would not have been seen dead playing Shadows stuff. Although I still have my original copy of Bert Weedon's PLAY IN A DAY, which was the bible then for budding guitarists.
After a year nor two, I got my second guitar. This was a steel strung acoustic, and the strings were mooring ropes off the Queen Mary. They were so thick that they made my fingers bleed. Still I persevered, and soon graduated to a Selmer semi acoustic. My first electric, and a 15Watt Watkins amp. The biz. I discovered feedback, much to dad's disgust.
" Can't you play that bloody thing properly? I could have brought [yes, brought] a new steereo gram with the money that stuff cost!" And yes, he did say steereogram.
Just a little aside here to show how whimsical everything really is. My father's name was Frank. He was, for a long time, a piano tuner. He was nearly completely deaf, due to an accident in the army. A deaf piano tuner. Well to me, there was nothing wrong in this. What I thought was incredible, was that on his business card was the legend,
F.SHARPE.
PIANO TUNER
About that time, I formed my first band with a school pal called Paul Strong. What a bloody marvellous guitar player he was! We were called THE RABBLE, and the only picture I have of that first foray into the world of Blues, and R&B is on the FUN STUFF page, and it is picture number 1. below. The guitar was almost as big as me. By the way, R&B then meant Rhythm and Blues. It certainly don't stand for that nowadays. My first gigs were in London, supporting bands like Georgie Fame and The Blue Flames at the Whisky, in Wardour Street. Not forgetting that I was only thirteen or fourteen at the time. I got in so late, my dad never knew, that I would fall asleep in class. I was sent home on a couple of occasions.! My school reports were permanently marked "His continued absences hinder his progress!". Not just the result of late gigs, but a deep rooted dislike of the education system. Music, Fishing, Airfix Kits, Art, fag cards [as in cigarettes] and books were always the number one priority. I think if my dad had really known what I was doing, he would have hit the roof. My mum always covered for me though... somehow!!
Around about this time, a bloke appeared on the scene, who shall be known as Tony, as that was his name. I wont reveal his second name for reasons that will become clear in a minute. Tony came to us saying that he was a band manager, and he was going to do this and that for us. Well, he got a few gigs, had big ideas, and was totally plausible. Only he was schizophrenic, with delusions of grandeur, and all the equipment that he got us, did not get paid for, and we had to return it. It nearly finished us.
But there were many compensations. Among them, getting to know Alex and Leslie Harvey. At that time, they were called the ALEX HARVEY SOUL BAND, and were absolutely mind-blowing. We supported them on several occasions, and I got know Alex quite well. I was about thirteen or fourteen at the time, and I got taken under their wing, as we always seemed to play in places where world war three was erupting. But , any trouble, I was told to stand behind them, and in they'd wade. But even in a punch up, these guys never missed a beat, and they were straight back on stage playing again. I was awestruck at the size of the amps they were using, but, more so at the sheer talent and feel for the blues that these guys had.

I had also joined 'The Park Centre Monster Club',( The Park Centre was the local Burgess Hill Youth Club) which was the brainchild of the multi talented Allen Duck, known to all as George. One of the first posters of George's that I will always remember was an infant, I think in a womb, with a cigarette in it's mouth. The caption was ' From the moment you are born, you start to die. Why accelerate?' Brilliant!! The picture above is of the cast of 'The House On Whitby Island'. George is pictured centre in the winding sheet! I am pictured on the left , short hair, sticky out ear, and looking like I hadn't slept for a month.( No change there then!!)

From THE RABBLE, which was for a time called THE EARWIGS, to TRAK. The reason for the name THE EARWIGS, by the way, was on our first gig, the guy who introduced us, wanted to know what we were called. No one could think of a name, so we said," errr!! we are tonight's mystery guests." He joked "Your not THE BEATLES are you?" "No," I replied facetiously, " We're THE EARWIGS". Before I could add anything else, he stepped through he curtains, and announced "Ladeez n' gennelmen, please welcome THE EARWIGS" Needless to say, we soon changed it to THE RABBLE.
TRAK was a six piece soul, tamla, and pop band. We actually had a heck of a lot of bookings, and quite a large following. This is where I graduated from playing rhythm guitar and a few licks to playing lead. A fun band to be in, we played a lot of Navy bases like HMS Excellent, and Army barracks. The camaraderie was great, but some times Dudley Christianson, who was the drummer, would fall asleep while driving, which often made for an eventful journey home! The rest of the line up was Keith Braine, keyboards, Roy Tree, guitar, Dave Page, Vocals, and Adrian Green, bass .
Next came IRON PROPHET. This was a heavy three piece, doing self penned numbers, some mine, some from Clive Shepherd, our talented singer, bass player, and songwriter. Dick Hawkes was on drums. The band was a cross between EDGAR BROUGHTON, GRAND FUNK RAILROAD and LED ZEPPELIN. Loads of riffs, and stuff. I learned a lot from this period. WE probably weren't that good, but we had a big following, and did a few festivals. We did Plumpton, with THE WHO and THE NICE, FAMILY (Tim Epps, our roadie, got to hang out with his hero Roger Chapman backstage. His comment on that, even now is....... cooookiees!) and I think JETHRO TULL. That was awesome! There was about one hundred and fifty thousand bodies there, and we got to use a 20k P.A.......Yeahhh!!!!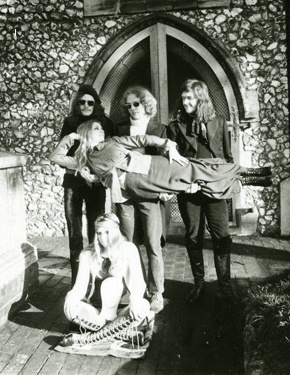 The picture shows, l to r standing, Moi, John Spinks, (friend) and Tim Epps, IRON PROPHET roadie,good buddy, and talented artist. He designed the IRON PROPHET logo and artwork. I can't find a picture of the artwork, which is a great shame, as it was excellent. Tim has gone on to greater things in the art field, now heading The Epps Partnership. Mind you, he was an excellent roadie, so Tim if you ever fancy touring again..... If anyone has any stuff on the artwork, or pics of IRON PROPHET and crew, I would be most grateful to receive them. The lovely ladies are Elaine, and Sandra, sitting.
The poster above was for the South Sea Bubble Festival, in 1969. Arthur Brown was arrested just before he was due to go on stage, for mooning from the tour bus windows, and what the police referred to as lewd behaviour. They actually sent several plain clothes C.I.D. chappies to arrest him backstage!!! The whole night was a riot, and went down a storm. With Hawkwind handing out Californian Sunshine to all and sundry, along with many other unidentified substances, it was a miracle anyone played a note. Unless , of course, I dreamed it all!
I remember the promoter coming into the dressing room at one gig and saying to me " Ere, which one of you is Ron? "I said, " There's no one of that name in the band!" wondering what the hell he was on about. " Well, I've got you down as I RON PROPHET and I thought the band was named after the leader, RON PROPHET." !!!! It wasn't the first or last time that sort of thing was to happen.
My long and rewarding acting career.

My first role as an actor, dear boy. The Christmas school play. I am the wise man in the middle. Who ever had the idea to cast me as a wise man was obviously not a clairvoyant. I later went on to be a stand in for Dorothy Lamour. Ha! Ha! As you can see, I was wearing snazzy titfers even then.

Next cometh the prestigious Mid-Sussex Arts Festival. This was a quirky little play, called 'The 'Ole In The Road'. I am the workman (another example of my fine taste in millinery) and my good buddy at the time, David Izatt was the toff. Who ever cast me as the work man, was a clairvoyant.........Incidentally, David Izatt also appears in the Park Centre Monster Club picture above. I am standing with my arm draped around him. Also a bit of synchronicity, I thought it was brilliant at the time, was that Bernard Cribbins single' 'Ole In The Road' became a hit the week the play was on. I thought some-one up there liked me. It made me feel a bit special. Although, I was a tad anxious about one aspect of the play. At the end, I, the workman, get blown up in my 'ole in the road. All that one sees is my hat, tin cup, and pipe, flying up in the air out of the hole. In my over zealous enthusiasm, they all went high above the stage.... and the audience. All the props were my fathers. I managed to retrieve, after the show, the cap and tin cup. However, the briar pipe, one of my fathers best, was nowhere to be found, and he was a trifle put out, to say the least. Especially as I hadn't asked him for the loan of it in the first place!

Above is a picture from my long modelling career. All of two weeks! It was a TV advert for, I think,' Masumi' perfume. Shown in America. I thought I'd made it. But, I didn't even get paid for it! It was shot on a desert island. A desert island in a Kensington basement studio on a rainy winters day! One ton of imported sand, and no bloody heating. Ah! the heady heights of stardom. My next foray in the world of the silver screen was playing in a band in a club in Wardour Street, London. This was for an Oliver Reed film, and I think that I am visible on screen for all of ten seconds. I have seen it once in thirty five years, and I can't even remember the name of the film. It was that interesting.
There were a few other unforgettable epics, and if I ever remember what they were, I will inform you on this page immediately.
Well, there you are then. That was it!!!
As you can see, a long and varied career.

2/12/05.My son Jamie, Antonia and me. It was the first time they had ever met!!
Due to illness, I had put on so much weight at the time this picture was taken,
that I was just about to become my own country!
Thank heavens I am back to my stunning svelte like self again.
<![if !vml]>

<![endif]>
<![if !vml]>

<![endif]>