HOME / FIVE DAY RAIN / CABARET / POETRY / MUSIC / SHINE / ROSIE / STREAK / THE GIPSY GANG / DEMO / THE FASCINATIONS
This was a Rock and Roll band I was in in 1973. Predecessor to ARROWS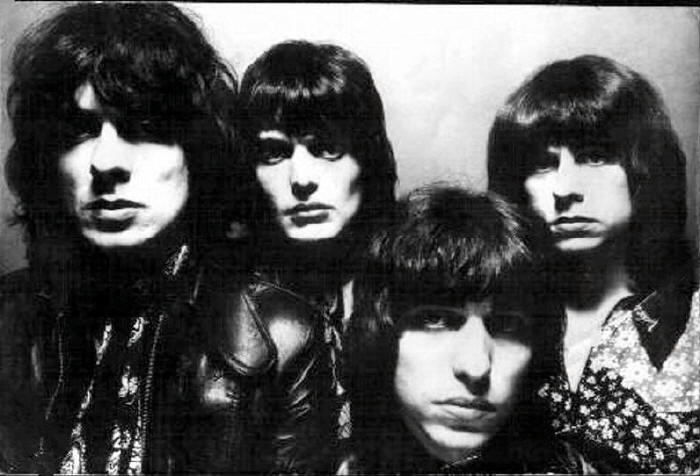 l to r: Ben Brierley, (aka Ben Bryan) Rick Sharpe (aka Ricky Steel)
Jerry Mamberg (aka Jake Falsworth, Jake Hooker), Paul Varley. (aka Paul Varley)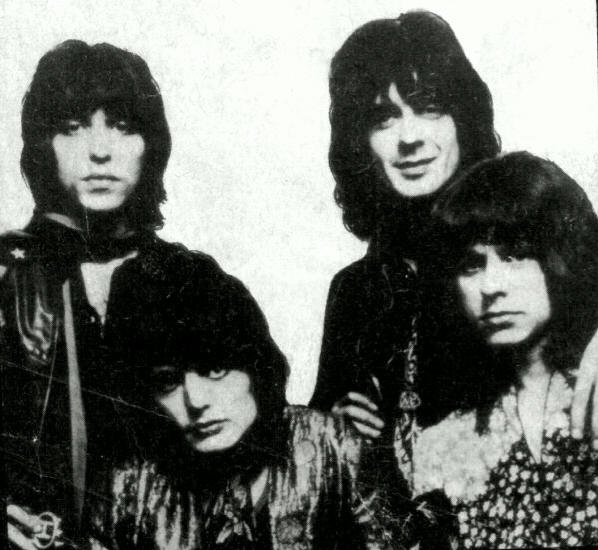 Red Saunders and Gered Mankowitz took the photos.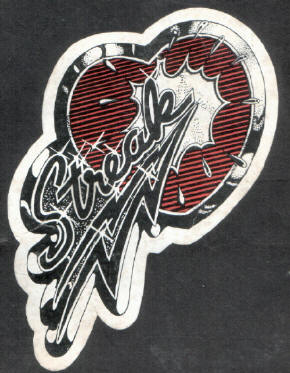 This sticker won The Sticker Of The Year Award,
as did the one we had before it. I am trying to find it!!!
Below is a recent (Jan 05) E-Mail from Rick Rivets of The New York Dolls, and The Brats. I am deeply flattered as the Dolls were great heroes of mine.
"Hi Rick, a friend just sent me your website as we have been doing Bang Bang Bullet since the 70's when we got an import single from a local record shop. I was in a band The NY Dolls and then formed the Brats. It was in the Brats that Bang Bang became a staple of our set and we still do the song today. The song fit our style so well that most people thought it was an original. It's great to see your site and to see pics of the band that influenced us with one single. Every time we play this song live the crowd just goes crazy and it has to be one of the strong points of our set. I just wished that I had written it but that's the way things go. Just wanted to let you know that this song has been played for over 25 years in the clubs of NY and other cities in the states. I hope that all is well with you and say hi to the guys. Have a great New Year and Keep rockin. Rivets"
__________________________________
A very battered copy of the STREAK Biog., written by the one and only PETER MEADEN.
The Deram single. A side.
Here's the B side


Here are the words, so that you can sing along. Altogether now.....
"MONITOR MIXES"
The four tracks below are from an acetate labelled Monitor Mixes, that we did for an album that was never released. I thought they were lost for all time, and have not heard them since 1973.
A copy of this was very kindly sent to me by Pete Bonner at Psychotron Records.

They were recorded at DECCA West Hampstead, and ISLAND STUDIOS, Basing Street, London in 1973. I think, but don't quote me, they were produced by David Hitchcock (He produced Bang Bang Bullet) and us. Sadly, the album was never finished. Jake and I both played lead on these, and for info purposes, he used a Gibson Gold Top (I can't remember the year) and I used my '63 Strat. These tracks need cleaning up a bit, but I think they sound okay. If anyone has info as to the rest of the tracks on that album, I would appreciate it.
© MMX1 R.Sharpe