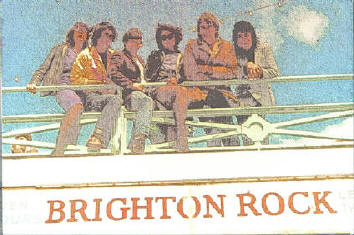 HOME / FIVE DAY RAIN / CABARET / POETRY / MUSIC / SHINE / ROSIE / STREAK / THE GIPSY GANG / DEMO / THE FASCINATIONS
Popular on the Brighton scene in the early eighties, THE FASCINATIONS were an eight piece soul, r&b pop band that was formed from the remnants of the
Brighton band, THE CHEEKS, in late 1979. We played pubs, clubs and colleges, also winning a Battle of the bands contest.
The line up was Rick: Guitar/Vocals/Harmonica. Pete Early: bass/Vocals. Steve Geoghan: Guitar/Vocals. Rob Grant: Drums. Simon (Spee) Spalding: keyboards.
Steve Early: Sax. Jill Early: Backing Vocals. Emma: Backing Vocals. Lindi: backing Vocals.
Below are a few pictures. Click on the thumbnails for a larger view. Also, eight tracks in mono.
Hopefully, at some point, we would like release some Fascinations tracks.
1.Intro: Baby Come Back (Eddie Grant) 2.Good Girls Don't (Fascinations) 3. Rainstorm Relations (S. Geoghan/P. Early) 4. So Excited (Eddie Grant)5. Manoeuvres (S. Geoghan) 6. Champagne and Caviar (Fascinations) 7. I'll Forget You (R. Sharpe) 8. Walking The Dog (Rufus Thomas)
Recorded at SOUND SENSE STUDIOS, SEAFORD, EAST SUSSEX, UK. Feb.1981.
Track 1 recorded live at THE PAVILION THEATRE, BRIGHTON, EAST SUSSEX.1981.
Tracks 2 & 3 recorded live at THE PEDESTRIANS ARMS, BRIGHTON, UK. 1981.
© MMX1 R.Sharpe